Description
[360° Rotating & Adjustable Base] 
R-LINK has 3 joints that can rotate 360 degrees, so you can freely adjust the desired position and height.

[4 in 1 Space-Saving Design] 
The cup holder for the car is equipped with 4 storage cups by adjusting the rotatable base, small in size and large in capacity, for the purpose of saving car space, and can hold 4 drinks at the same time.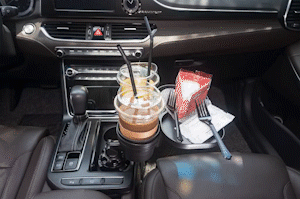 The Mintiml Cup Holder Expander Adapter is sturdy in design and can withstand the weight of 4 kinds of drinks.
If the diameter of the vehicle cup holder is 68-98 mm, it can be easily installed on any vehicle type.
Parameters
☛ Color: Black
☛ Product Weight: 380 g
☛ Material: ABS, Poly Urethane
☛ Package Size: 180*130*145 mm
☛ Package Include: 
1 fix body + 1 frame cups + 1 seamless cup + table