Portable design can free your hand?
It's like an extra hand! This strap rod holder at your waist can hold your pole when changing hooks and lures. There is no need to place your expensive rods on the floor anymore.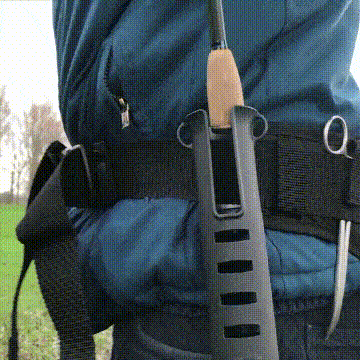 Better Fixation?
The inner layer can prevent your rod from falling or moving while the two fasteners can fix the rod holder to your belt to prevent slipping.
广泛使用?
只是杆式柱子,可以轻松连接到钓鱼背心、腰包、腰带等。双臂变得自由并支持每个动作。


最好的钓鱼礼物?
钓鱼竿架用于银行钓鱼竿架皮划艇接地杆架。


优质材料?
拉杆支架采用优质PBT树脂,PVC橡胶涂层,更耐用,更持久。
规格:
重量:227G
颜色:黑色、军绿色、卡其色
材质:塑料/尼龙
尺寸:可调节 周长:84-140cm


包装内容:
款式一:1*钓竿支架
款式二:1*钓竿支架+1*腰带