Homes with small children or pets may require fencing.
Inflatable pools are excellent ways to enjoy the summer heat without using up valuable portions of your real estate, year-round.
Important tips for using the Inflatable swimming pool:
1.Don't leave child unattended while device is in use. Use only under adult supervision.
2.Don't lift/move the inflatable swimming pool when is filled with water as the water weight might cause ruptures.
3.Don't contact the inflatable swimming pool with sharp objects such as rock,gravel,shells,glass fragments,metal fragments,wood chips,etc.
4. The inflatable swimming pool is made from durable environmental and non-toxic PVC. Due to the production process, maybe there is some smells, it will be disappear in a few days.It's no harmful chemicals while kids playing. Please be assured that using.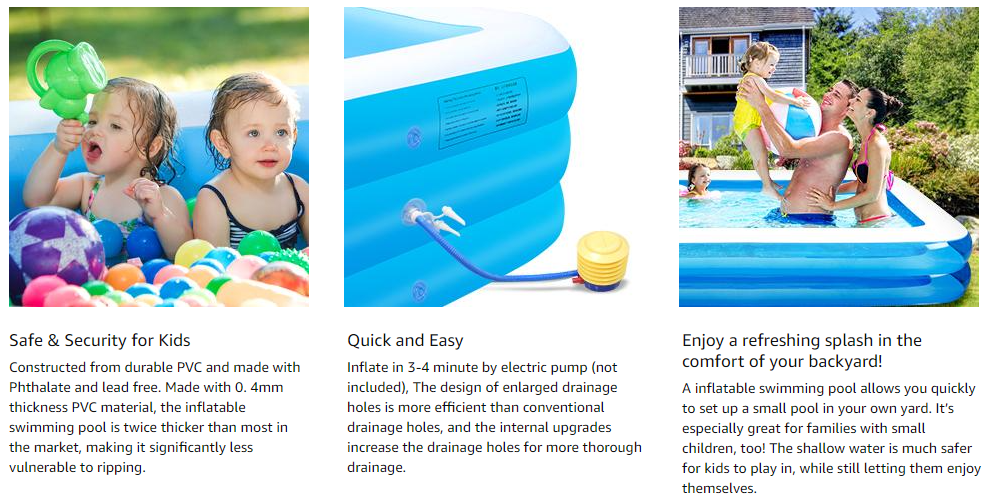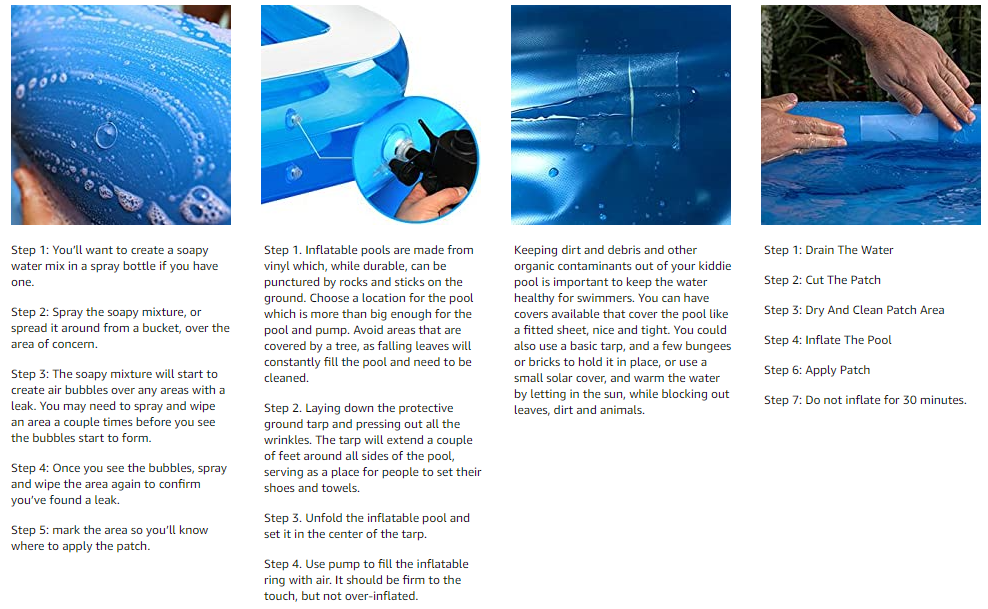 【Oversize Design】: Our inflatable swimming pool, size: is 120 inch/304 cm in length, 72.04 inch/180 cm in width and 19.68 inch/50 cm in height. The inter size of pool is 96.45 inch/245 cm in length, 46.45 inch/118 cm in width and 19.68 inch/50 cm in height. Capacity: 550 liters/310 gallons, which can hold up a family with 4 adults or 6 kids to enjoy a splashing pool party in summer.

【Safe and Sturdy】: Made with Naphthalene and Lead Free, BPA-free material( CPSIA , CPC and ASTM certificates ) the safety. Made with 0. 4mm thickness PVC material, the inflatable swimming pool is twice thicker than most in the market.

【High Quality Material】l: The high-strength hot carbon tough PVC layered independent airbag adopts reinforced thermal fusion technology, which is firm and not easy to break. If a single layer leaks, it will not affect the normal use of the surrounding baby.

【Max Protection】: Super soft inflatable floor of this inflatable family pool, as a cushion between the ground and kids , increase kid protection; avoiding the rapid drop in water temperature, and prevents the baby from falling and stung while swimming or playing in the pool.

【Easy to use】: Inflate in 3-4 minute by electric pump (not included) or inflate by feets; 90° vertical drainpipe can facilitate the outflow of water.