Motorcycle Seat Cushion Cruiser Pressure Relief Air Pad for Cruiser Touring Saddles, Water Cooling

Do You Want to Change?
When you ride on a motorcycle, where does your first feeling come from? There is no doubt that when you step on the motorcycle, the first feeling comes from the seat cushion. The seat cushion is responsible for supporting most of your weight, and a poor sitting posture will greatly reduce the fun of our riding. The cushion is the most directly accessible to the Cavaliers. The comfort of the cushion directly affects the feeling of riding.
The requirements for the seat cushion are higher, especially for long-distance cycling and professional riders. Because the road conditions of cross-country vehicles are mostly rugged mountain roads, undulating roads, or filled with various obstacles designed by professional venues. To ensure a more flexible and comfortable drive, a new material airbag cushion becomes necessary.
Advantages:
Surfaced with flexible & breathable stretch material to reduce humidity and sweating.
Unique multi-cell design for the ultimate in seating comfort and vibration absorption.
The structure can help to share 30% pressure and protect the caudal vertebra. When the airbag is squeezed, the gas between the airbags flows to each other. This process produces a uniform pressure "anti-gravity" effect, which adds extra buffer.
Dispersing the pressure from the point line surface, it is not easy to form a flat hip, thus shaping the natural beautiful buttocks.
With a shallow groove design, you will stay cool even you have been sedentary.
Adding water to the seat cushion will help cool down and dispense the heat of your hip further.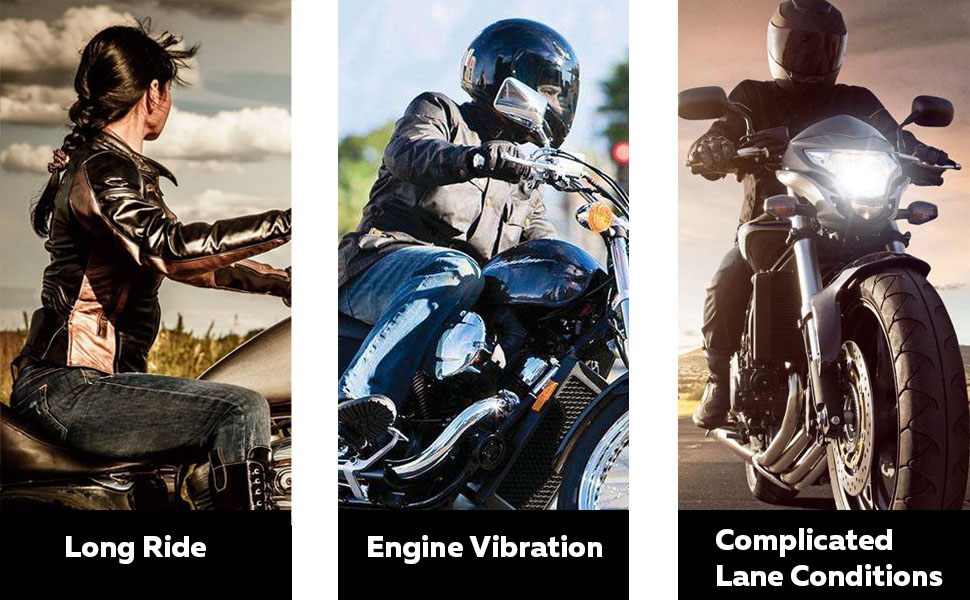 Motorcycle Seat Pad for Small Medium Large Cruisers, Dual Sports, Sportbikes, Standards, Sports Touring, Adventure Touring, and Harley's
Great for those who go on long rides or for those that are looking for an all-around solution for a more comfortable riding experience.
You Can Imagine a More Enjoyable Ride
Look at this super comfortable cushion! Yes, we know what you need and how to realize it. We found the best fabric for your cushion: TPU + Lycra.
The fabrics have excellent elasticity, breathable, and wear resistance. This material provides excellent performance under severe weather and workforce. Just take a rest after you arrive; it doesn't need frequent maintenance.
The built-in air cushion can be filled with air by our equipped pump to achieve the effect of shock absorption and ensure comfort.
Note:
Avoid touching any sharp goods.

Do not close to high temperature.

Do not overinflate.

Wash the air seat by hand, do not wash by a washing machine.

Please do not use the water-filled cushion in direct sunlight or a high-temperature environment if the water becomes boiling.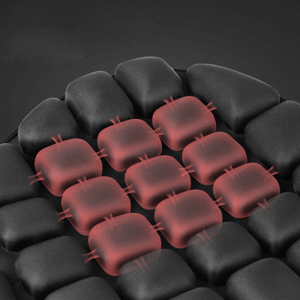 Air Convection Technology
With multiple air convection technology, when the airbag receives the squeeze, the gas flows to each other, producing a uniformly pressurized "anti-gravity" effect. This process can buffer the vertical pressure of more than 1/3 of the body weight, greatly reducing the load and pressure of the tail vertebra.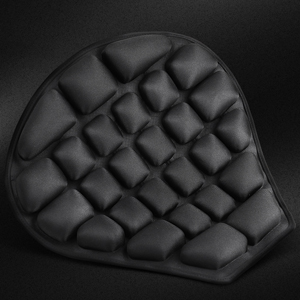 Premium Cushion Material
TPU + Lycra.
TPU fabrics have excellent elasticity and wear resistance. This material provides excellent performance under severe weather and workforce. Just take a rest after you drive; it doesn't need frequent maintenance.
Lycra diving elastic fabric feels delicate and soft, greatly improves the feel of the cushion and the recovery of the crease. It's of high rebound, no deformation, and can be repeatedly washed.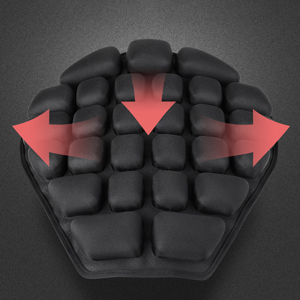 Breathable & Comfortable
It's "live," it breathes. There are gaps between the airbags on the motorcycle seat cushion to ensure that the buttocks are on the soft cushion while enjoying a relatively breathable state.
With a shallow groove design, you will stay cool even you have been sedentary. The 3D airbag gap can achieve an excellent ventilation effect, so the seat cushion is comfortable and not sticky.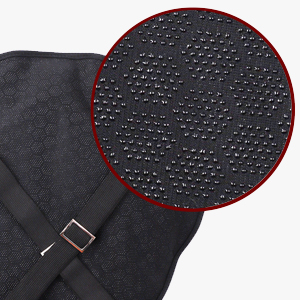 More restraint, more stable.
To make the seat pad stay where you want, we used anti-skid particles and double-bandage fixation. The bandages adopt a cross-wrapping method to take care of the seat's shape, which makes the seat fit the seat cushion better. The bottom of the cushion is also designed with unique anti-slip particles.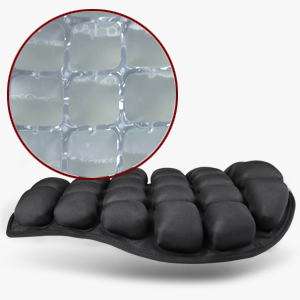 Water Cool Down
In addition to aeration, this motor seat cushion also innovatively uses a water injection design specifically designed for long-distance driving/sedentary people. Experiments have found that it can effectively help cool down and disperse heat so that you can stay away from sweat.
Do not suitable for other liquid filling usages.
Package includes:

1x Hommiesafe Motorcycle Air Cushion
1x Mini electric water pump
1x Air pump (Including a tube)
2 x Fabric straps
1x User Manual